Instant Pot Mojo Chicken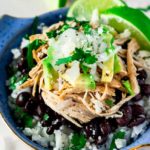 1.5 lbs boneless, skinless chicken breast
1.5 tsp kosher salt
2 bay leaves
.5 tsp pepper
.5 tsp cumin
.5 tsp smoked paprika
.5 cup chicken broth
.33 cup orange juice
2 TBS lime juice
1 white onion (cut into big chunks)
1 jalapeno (sliced in half)
6 cloves garlic
Pat dry the chicken breast and place inside a 6-qt Instant Pot. Stir together the salt, oregano, epazote, pepper, cumin, and smoked paprika and sprinkle generously over the chicken.

Slowly add the chicken broth, orange juice, lime, and lemon juices to the bottom of the instant pot, then nestle the onion, jalapeno, and garlic cloves around the chicken.

Close the lid and set the Instant Pot to MANUAL for 20 minutes, then allow to naturally release for 10 minutes before venting and opening.

Remove the chicken from the Instant Pot and shred in a large bowl. Serve with corn tortillas or rice and beans, topped with cilantro, queso fresco, and avocado (macros not listed). Enjoy!