Low Carb Fish Taco Bowls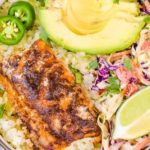 4 cod fillets (frozen or fresh)
2 tbsp butter (melted)
2 tbsp taco seasoning
1/4 cup sour cream
1 1/2 tsp lime juice
1 tsp honey
1 tbsp milk
pinch salt
2 cups cauliflower rice (Try the Pineapple Lime Cauliflower Rice recipe!)
2 cups coleslaw (Try the Sweet and Spicy Coleslaw recipe!)
1 whole avocado (pitted and sliced)
1/4 cup cilantro (chopped, for garnish)
Preheat oven to 400*F.

Line a sheet pan with foil for easier clean up.

Mix together melted butter and taco seasoning. Brush on the fillets.

Bake fillets for about 15 minutes or, until fish is opaque and can be flaked easily wiht a fork.

For frozen fillets, bake for about 25 minutes.

Whisk together sour cream, lime juice, honey, milk, and salt.

Fill 4 bowls with 1/2 cup cauliflower rice, 1/2 cup coleslaw, 1 fish sillet, and some avocado slices. Drizzle with the honey lime crema and garnish with cilantro.