Paleo Buns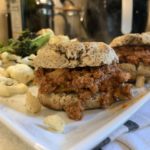 2 cups almond flour
1/2 cup tapioca flour
1/2 tsp salt
1/2 tsp baking soda
1/2 tsp baking powder
1 tsp apple cider vinegar
3 whole eggs
1 tbsp honey
2 tbsp coconut oil (melted)
Preheat oven to 350*F

Combine almond flour, tapioca flour, salt, baking powder, baking soda in a large bowl and mix well.

In a separate bowl whisk together eggs, apple cider vinegar and honey.

Pour wet ingredients into dry and then stir in 1 tbsp melted coconut oil.

Using greased hands, form into 4 balls and placed on greased cookie sheet or on a cookie sheet lined with parchment paper.

Lightly brush the top of each bun with the rest of the melted coconut oil. Sprinkle sesame seeds on top if desired.

Bake for 12-15 minutes. Let cool before cutting.