Salmon Cakes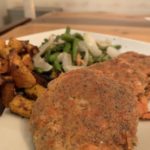 1 lbs salmon (roasted and shredded )
2 whole eggs
3/4 cup almond flour (or rolled oats (if not following paleo))
1 tbsp yellow mustard
1/2 tsp salt
1/2 tsp pepper
1 tsp garlic (minced)
3 tbsp avocado oil (can sub coconut oil)
Roast salmon for 20 min at 400*F

Shred salmon

In a large mixing bowl, combine all ingredients except oil and mix well.

In a large skillet, heat coconut or avocado oil on medium high.

Form patties and place in hot oil.

Cook on medium for 3-4 minutes per side or until golden brown.

Enjoy!