Sweet Potato Lasagna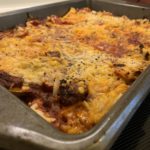 3 whole Sweet Potato (large, 4-5 if smaller)
1 lbs Ground beef (can sub for ground chicken or sausage or turkey)
1 clove Garlic (or 1 tsp minced garlic)
1 cup Marinara sauce (for paleo, find no sugar added kind)
4 whole Tomatoes (diced)
1 TBSP Italian seasoning
3 whole Basil leaves (chopped)
1/2 tsp salt
1/2 tsp pepper
1 cup Cottage cheese (sub for 4 extra eggs if following paleo or whole30)
1 whole egg (per above ingredient, will 4 extra if following paleo or whole30)
3/4 cup Mozzarella cheese (or vegan cheese if following paleo or whole30 or can omit)
Preheat oven to 400*F

Slice sweet potatoes using a mandolin or if you do not have one, slice the sweet potatoes about a dime thick

In a skillet, cook meat on medium heat until done

Add in sauce, diced tomatoes, garlic, Italian seasoning, salt, pepper and basil. Cook for about 5 minutes.

In a separate bowl, scramble egg(s) and cottage cheese.

In a greased 9×13 casserole dish, line the bottom with the thinly sliced sweet potatoes. Add half of the meat and sauce mixture. On top of that, pour half of the egg and cottage cheese mixture. If following paleo or whole30, add just 1/2 of the eggs, scrambled.

Repeat the patterns for another layer of sweet potatoes, meat and sauce and then egg and cottage cheese. Top with cheese, vegan cheese or opt out completely.

Bake for 50 minutes!

Let cool and enjoy!