Zucchini Bread Protein Muffins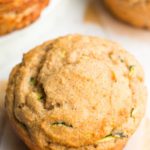 56 g coconut flour ((converted: .5 cup + 2 tb))
84 g whey protein powder
1.5 TSP baking powder
1.5 tsp cinnamon
.25 tsp nutmeg
.25 tsp salt
1 tb coconut oil (melted and cooled slightly)
2 egg whites (room temperature)
1 tsp vanilla extract
.5 cup plain nonfat Greek yogurt
1 tb pure maple syrup
.5 tsp stevia
150 mL unsweetened cashew milk ((converted: .5 cup + 2 tb))
1 cup zucchini (freshly grated, patted dry)
Preheat the oven to 425°F, and lightly coat 8 standard-sized muffin cups with nonstick cooking spray.

Whisk together the coconut flour, protein powder, baking powder, cinnamon, nutmeg, and salt in a medium bowl. In a separate bowl, whisk together the coconut oil, egg, and vanilla.

Stir in the Greek yogurt until no large lumps remain. Stir in the maple syrup and stevia. Alternate between adding the coconut flour mixture and milk, beginning and ending with the coconut flour mixture, and stirring just until incorporated. (For best results, add the coconut flour mixture in 3 equal parts.)

Let the batter rest for 10 minutes. Gently fold in the zucchini.

Divide the batter between the prepared muffin cups. Bake at 425°F for 11 minutes. Without opening the oven door, reduce the oven temperature to 350°F, and continue baking for an additional 14-17 minutes, or until the tops feel firm to the touch and a toothpick inserted into the center comes out clean.

Cool in the muffin cups for 5 minutes before carefully transferring to a wire rack.