20 Minute Shrimp, Sausage, Veggie Skillet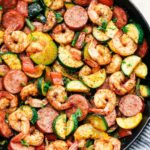 1 lb medium or large raw shrimp (peeled and deveined)
6 oz of pre-cooked smoked sausage (chopped (choose your favorite))
3/4 cup chopped red bell pepper
3/4 cup chopped green bell pepper
1/2 whole medium yellow onion chopped
1/4 cup chicken stock
1 whole zucchini (chopped)
2 cloves garlic (diced)
1 pinch red pepper flakes
2 tsp Old Bay Seasoning
1/2 tsp salt
1/2 tsp pepper
coconut oil
Heat a large skillet over medium-high heat with coconut oil
In a bowl, season shrimp with Old Bay Seasoning
Cook shrimp about 3-4 minute. Remove from heat and set aside
Cook onions and bell peppers in the same skillet with 2 tbsp of coconut oil for about 2 minutes or until onions and peppers begin to soften.
Add sliced sausage and zucchini to the skillet, and cook for 2 more minutes.
Put cooked shrimp back into skillet along with the garlic, and let everything cook together, mixing well for about 1 minute.
Pour chicken stock into pan and mix through evenly.
Add salt, ground pepper, and red pepper flakes to taste
Remove from heat, and serve hot!
Serve alone or over grain of choice!
[nutrition-label]