3 Ingredient Oatmeal Chocolate Chip Cookie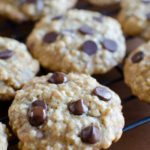 1 cup oats
2-3 whole ripe bananas
3 tbsp chocolate chips
Preheat the oven to 350°F.
Mash bananas and mix well with the oats. A food processor also works great for this!
Add in the chocolate chips.
Take a spoon and portion the cookies on a parchment lined baking tray.
Bake for about 15 minutes. Remove from baking tray, let cool + enjoy!
The sweetness of the cookie depends on the ripeness of the banana, so make sure your bananas are fully ripe! If you feel the mixture is too dry, you can add a splash of almond milk or a little more banana.
[nutrition-label]