3 Ingredient Protein Pancakes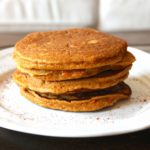 2 medium ripe bananas (sliced)
1/2 cup chia seeds
4 large eggs (whisked)
Oil spray
Place the banana in a bowl and mash using a fork. Add the chia seeds and mix until well-combined.
Add the eggs to the banana and chia seeds and whisk until well-combined. Set aside for 10 minutes to rest and thicken.
Heat a non-stick frying pan over medium-high heat and spray lightly with oil spray.
Pour half of the mixture into the pan. Cook for 45 seconds or until the base is golden in colour. Use a spatula to turn the pancake and continue to cook for another 30 seconds or until golden and cooked through.
Transfer to a plate and repeat with the remaining mixture.
To serve, place the pancakes on a serving plate and top with your favorite toppings or try one of our topping suggestions. Enjoy!