4 Ingredient Coconut Macaroons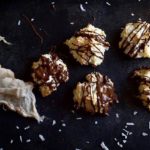 2 whole large egg whites (at room temperature)
1 tsp vanilla extract
1/3 cup low carb white sugar sweetener
1/4 tsp Sea Salt
2 cups unsweetened shredded coconut
2 oz dark chocolate chips (optional, sugar free)
1/2 tbsp coconut oil (optional)
Preheat the oven to 325 degrees. Line a baking sheet with parchment paper.
Using a hand mixer, beat the egg whites until medium-stiff peaks form. They should barely move if you tilt the bowl.
Slowly add in the sweetener, 1-2 tablespoons at a time, while beating constantly. Once complete, mix in the sea salt and vanilla extract with the mixer.
Gently fold in the coconut flakes with a spatula, being careful not to break down the whites.
Use a spoon to drop the batter onto the lined pan.
Bake dough for 15 to 20 minutes, until golden brown.
Make the optional chocolate drizzle: In the microwave, melt the chocolate chips and coconut oil, stirring until smooth. Drizzle the chocolate on top of the mostly cooled macaroons.
Cool the macaroons until no longer hot, then refrigerate for about 20 to 30 minutes to set the chocolate.
You can freeze these for up to 3 months. Let cool completely. Then place back on parchment lined baking tray and let sit in the freezer for 30 min. Once, firmly set, combine into a freezer bag for storage. When you're ready to eat them, thaw on the counter or in the fridge!
[nutrition-label]