Written by former Y2 teacher trainee and now Y2 teacher and SweatNET Ambassador Lauren Shirley
First let me start by saying to those of you signing up for teacher training, you are about to embark on one of the most eye-opening experiences in your life – and I mean that in the best way possible. If you are anything like I was leading up to my teacher training, you are probably a big ball of nerves and excitement with no idea what to expect and tons of questions running through your head. Am I going to be too young? Too old? What if there are only super experienced yogis in there doing acrobatic tricks and I'm over here like "hi guys, I can finally do a forward fold without bent knees"?
Well, I am here to tell you that all of those nervous thoughts and questions filled with self-doubt are totally, 100% uncalled for. It's going to be fun and you are going to be fine. And if you're stuck on the fence about teacher training, let me shed some light on why you shouldn't be. Keep in mind that I participated in Y2 Yoga's 200-Hr Teacher Training, so my opinions may not hold true for all trainings – but I am optimistic that they do.
1) There Are People From ALL Walks of Life in Teacher Training
In my training, there were all ages and walks of life from a 19-year old college student to moms and dads with multiple children. Guess what? We were ALL connected by the desire to learn more. It was awesome and beautiful and so cool to learn that you have so much in common with someone you may have initially thought was so different than you. Do not rule yourself out of training because you think your time has passed or has not come yet…there is no such thing.
2) Experience Doesn't Matter – Seriously
As I mentioned earlier, one of the thoughts I had going into teacher training was that I was going to be so not as committed to yoga as my fellow teacher trainees. At the time, my fitness routine was mostly running with yoga sprinkled in about 3 times per week (on a good week). For some reason, I convinced myself that every single other person in my training was going to be a yogi who practiced twice a day and knew every single posture name in Sanskrit. I was wrong. Once you get into training you will realize you were silly to ever think those thoughts. There is no part of training that requires you to do anything physically advanced. The physical part of the training is just like every other aspect of training – it's a no pressure, come as you are type of thing. Plus everyone learns Sanskrit together. 🙂
3) You'll Make Friends – Lots of Friends
Before training, I would come to my studio for practice, roll out my mat in the designated spot, talk to no one and leave right after practice. I didn't know anyone who I was practicing with. Not only will you make lasting friendships with the students in your training group, but you will start to learn the names of the faces that you see around the studio and in class. All of the sudden you will have a big, supportive community of yogis around you. And trust me from someone who knows first hand, practicing is so much better with friends.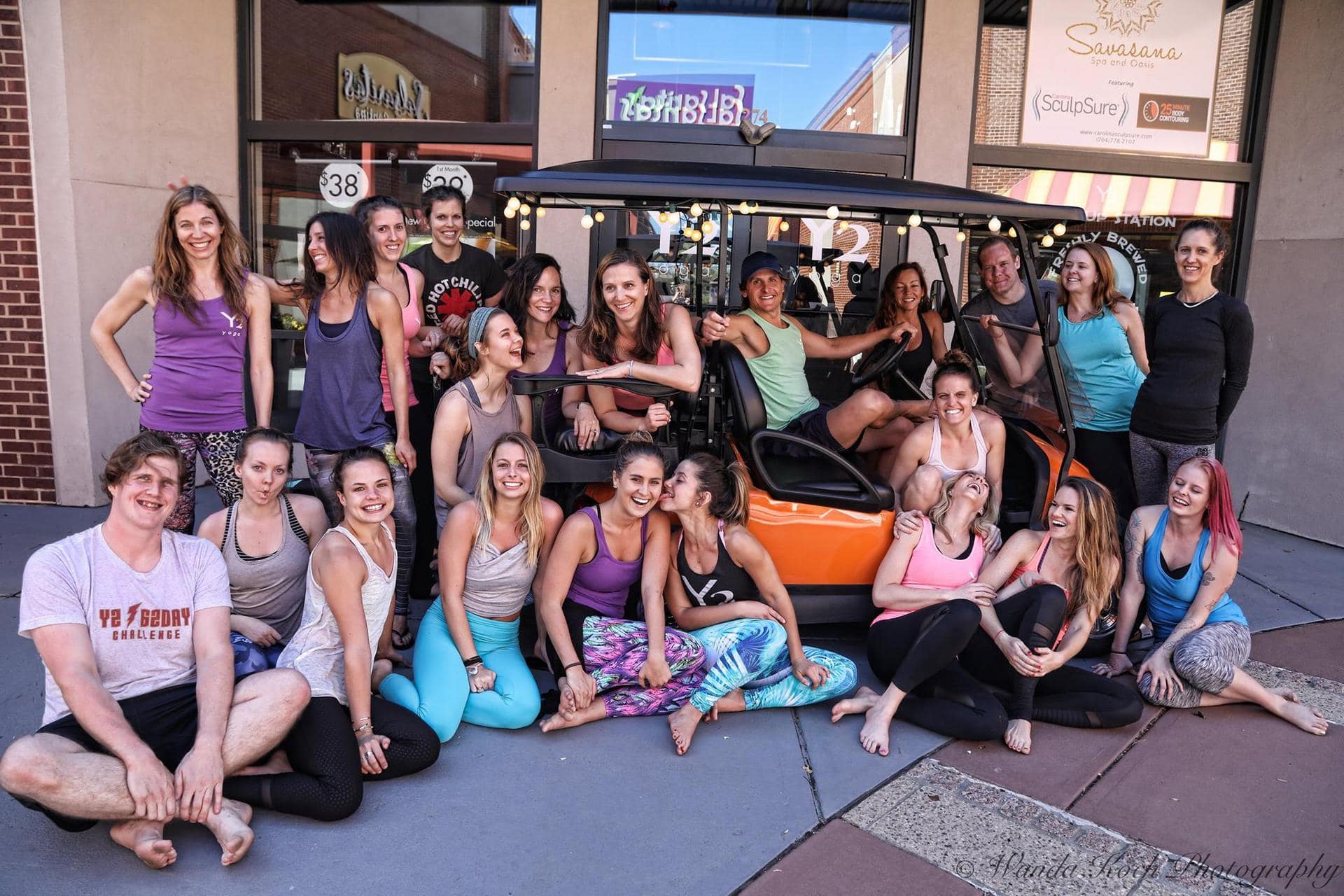 (My teacher training group, Winter 2017, photo from Wanda Koch Photography)
4) The Goal for Teacher Training is Not to Become a Teacher
Before teacher training, people would ask me if I was going to teach after and I thought that was the weirdest question. Duh I'm going to to teach, it's called "Teacher Training" for crying out loud. Well, after the first weekend you will understand that the goal of teacher trainings is not necessarily to send off you off with 100% certainty that you will teach. Rather, the goal is personal growth. You may not want to teach at all and that's okay. You may not know. I went from definitely wanting to teach, to not so sure if it was my thing, to OKAY no way, and then all the way back to definitely wanting to teach. Teacher training is about understanding this practice, the reasons why it is so life-changing and learning about yourself and others so that if you want to teach, you will have the tools you need. (Side note, you will practice teaching and learn how to sequence a class and all of that fun stuff).
5) Expect to Laugh a LOT (and maybe cry a little)
Although you will be deep diving into self-exploration, the laughs that you will have will far outweigh any heaviness in your life. I find that yoga teachers and yogis, specifically the yogis at Y2, have a way about them that makes you realize life is too fun and exciting to be taken so seriously.
If you are someone who is looking to do a teacher training this year, my home studio, Y2 Yoga in Cotswold, is holding our Winter 2019 YTT starting in January and registration is now available. If you register by November 10th, you will receive early bird pricing and get $300 off of your tuition. Y2 also has a Teacher Training Scholarship program where we award a trainee 50% off of their entire tuition. Go y2yoga.com/transform/yoga-teacher-training for more information. If you have any questions regarding Y2's training or teacher training in general, please feel free to email me at lauren@y2yoga.com.
Keep in mind that there are so many awesome programs around Charlotte that hold stellar teacher trainings. My advice would be to find your niche and go from there.
In closing, if someone asked me if I would do our teacher training again, I would say yes, 1000%. If you are waiting for a right time to take teacher training, guess what – you are looking right at it. I can't wait for your journey.
With Love,
Lauren