Growing up as an athlete, one of the things I loved most was the sense of unity and
camaraderie that came with being part of a team. Achievements and challenges were
experiences that were shared together; this is one of the biggest things I am so proud of co creating at AIR Charlotte. We're a team of fierce and inspiring souls who come from all over, but when we walk through the door we are a unit. We always leave feeling capable of more, and with a strength that motivates us to take on whatever comes next; that goes for any new or existing client that walks through our door.
I grew up in a big city with snow about 9 months out of the year. I took to playing sports (mostly basketball) at a young age, partly to stay warm, sometimes to fit in, but most times because I loved it. I ended up landing a lacrosse scholarship at Belmont Abbey College, even though I only got on the field about 2 months of the year. I didn't get a chance to visit the school since I was backpacking in Europe at the time, but I know an opportunity when I see one. So on a whim, I packed a duffle bag (actually, 2) and flew to Charlotte, North Carolina.
The discipline and team work of being a DII college athlete have been tools, life lessons really, that have stuck with me. It made me want to be a leader, not to stand out, but to help inspire others and motivate them to reach their full potential. So I did what most broke college athletes do after graduation. I found a job (or 5). Luckily they all had a similar theme, from coaching, to nannying, to front desk at a gym. I was surrounded by people, who I had the opportunity to influence, inspire and motivate. One of the most rewarding and challenging roles. Fast forward through a few certifications, a couple more jobs, and here I am. Owner of 2 AIR studios and a super fun, efficient facial bar, MudbuM.
Throughout my years as a trainer I've evolved, from an athlete to a yogi, and a bit of a rebel in between. Oh yeah, throw in business owner. One thing I love about AIR is you can be whoever you want to be. You don't have to fit a certain "type". We are all athletes, rebels and yogis. And who doesn't love a 30 minute facial?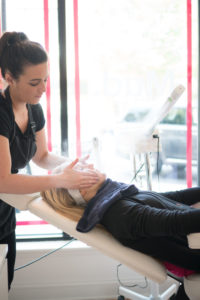 AIR Charlotte runs from two locations in Charlotte: SouthPark and Myers Park offering 5 different styles of workouts, including Aerial Yoga, Barre, Interval training as well as our unique AIR classes offered at various levels beginner to advanced. So whatever kind of workout you're looking for in your week – we've got you covered!
With the use of the hammocks we are able to provide an extra element to support flexibility, strength and balance building exercises. Each class is led by our hands on instructors who will challenge and motivate you, and always make you feel welcome, and like you've accomplished something. We offer modifications and variations so you're not alone in figuring it all out, so it is truly an all levels workout ** just make sure you stick to AIR Foundation for your first class**  Take our beginner friendly class (still a workout!) called AIR Foundation for FREE – just use promo code AIRCHARLOTTE.
Our trainers come from various backgrounds comprised of sport, dance and yoga and are all certified in house under the AIR training certification, meeting quarterly evaluations so they stay fresh. If you've seen any of our social media pages, you might think our trainers and even some of our clients are aerial performers. Rest assured, we are not. We are trainers who focus on fitness first. We get asked all the time, "do men do these classes?" and the answer? Absolutely.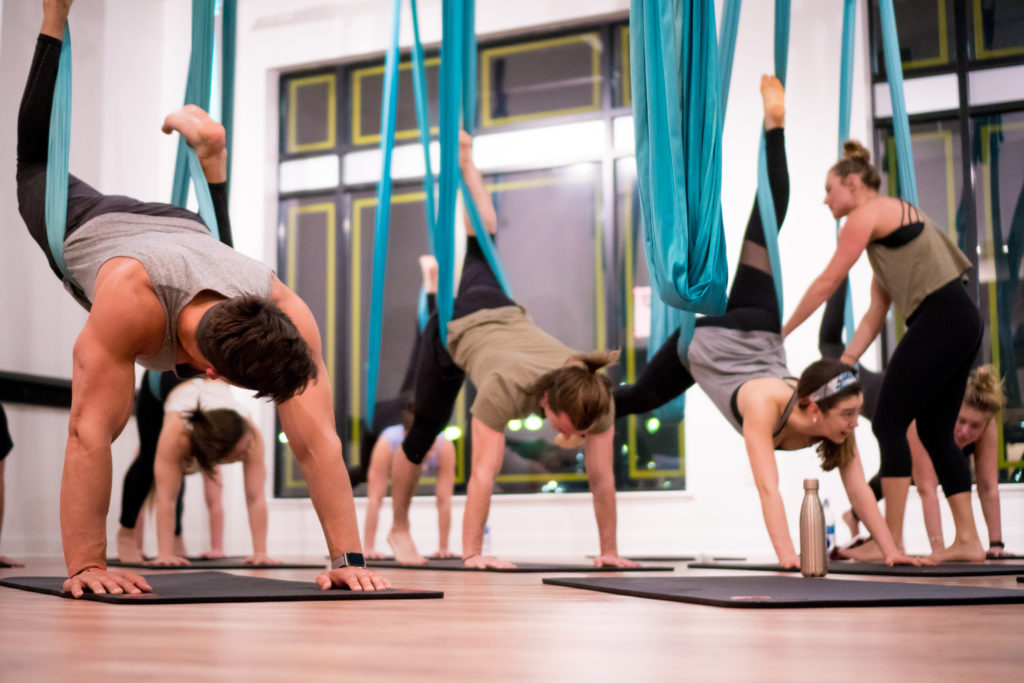 Don't let the photos intimidate you, your first class will incorporate single leg burpees, elevated planks + push ups, and yes, inverted crunches + climbs, along with necessary modifications so you can work at your level. The hammocks provide a safe and low impact way to decompress the spine and support flexibility, vital to keeping you going, longer. Whether that's your training, or just day to day life. Building and maintaining a strong core is key to keeping you balanced, stable and strong no matter what your daily routine is. A strong core can help prevent back pain and keep you standing taller, longer. So no matter your background; yoga, crossfit, dance, or you're just getting started, we've got something for you.
No doubt I'm passionate about what I do – what I look forward to most is the energy within the studio and witnessing our clients become a better version of who they are. There is no greater gift.
We invite you to be a part of our community. What are you waiting for?
Contact Kerri: kerri@airfitcharlotte.com
SweatNET members receive exclusive discounts to AIR and MudbuM. Not a member yet? Sign up here.