Almond & Coconut Flour Chicken Tenders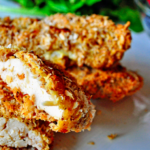 .25 cup coconut flour
.25 cup almond flour
1 egg
1 lbs chicken tenders
1 tsp salt
1 tsp pepper
Preheat oven to 400*F, unless using air fryer.
Mix coconut flour, almond flour, salt and pepper in a cereal bowl.
Mix egg into another cereal bowl.
One at a time, dunk each chicken tender in the egg and then coat heavily in the flour mixture. Place on a greased baking sheet or in an air fryer.
Bake for 20 minutes or until golden brown. If using an air fryer, cook on 400*F for 10 minutes. Flip and repeat for another 10 minutes.
Let cool and enjoy with your favorite dipping sauce.