Asian Chickpea Salad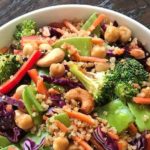 A simple, plant-based salad that has flavor and crunch!
Salad:
15.5 oz chickpeas (rinsed and drained)
1/2 cup quinoa (uncooked, rinsed)
1 cup carrots (shredded)
1 cup snow peas (cut into thirds)
1 cup red pepper (thinly sliced)
2 cups red cabbage (red or purple, thinly sliced)
1.5 cup broccoli florets
1/2 cup cashews (optional)
Miso Ginger Dressing:
1 tbsp white miso paste
1 tbsp lemon juice
1 tsp ginger
2 tbsp tamari (gluten-free)
1 tbsp rice vinegar
1-2 tsp honey (optional for a sweeter dressing)
1/8 tsp sea salt (optional)
Place 1/2 cup of water and quinoa in a medium pot and bring to a boil.

Once boiling, turn heat to simmer and cover.

Let simmer for 15 minutes or until water is absorbed.

Turn off heat and let cool. Fluff with a fork.

Prep all vegetables.

Whisk together the dressing ingredients in a small bowl.

In a large bowl, add all chopped veggies, chickpeas, cooked quinoa, cashews, and mix together.

Add dressing and toss until well combined.
Photos from: https://www.healthygffamily.com/recipe/asian-chickpea-salad-2/