Bacon & Spinach Egg Muffins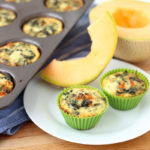 These egg muffins are like mini omelets that are perfect to prep ahead of time and grab on the way out the door! The base of these muffins are simply eggs, salt and pepper. We think bacon and spinach goes well inside them, but feel free to add your own protein and veggies!
12 egg
1 lbs bacon
5 oz spinach
2 tsp pepper
2 tsp salt
Preheat oven to 350*F

Cook bacon however you prefer (pan fry, microwave or bake) until crispy

In a large frying pan, sauté spinach

Chop or crumble bacon into pinky nail sized or smaller bits

In a large mixing bowl, whisk together eggs, salt, pepper, sautéed spinach and bacon bits

In a greased muffin tin, equally distribute the egg batter into each muffin mold.

Bake 18-20 minutes.

Let cool & enjoy!