Baked Lemon and Garlic Salmon with Asparagus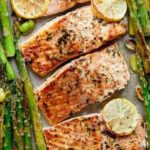 4 ounce salmon fillets ((two))
1 tbsp extra virgin olive oil
1 tsp oregano (dried )
1 tsp garlic (dried )
60 g asparagus spears ((approx 16 spears))
1 whole onion (for garnish)
1 whole lemon
1 tsp fresh parsley (chopped for garnish)
Place the two pieces of salmon and asparagus spears on a baking sheet lined with tin foil. Drizzle 1 tbsp olive oil over both salmon and asparagus and sprinkle salt, pepper, and dried oregano
Top each salmon portion with about 2 onion slices and 2 lemon slices.
Bake in preheated oven for about 12-15 minutes. (The time will depend on the thickness of your salmon and the power of your oven.)
Using a large spatula, transfer the salmon and asparagus to a plate.. Serve warm.