Banana Bread Chia Pudding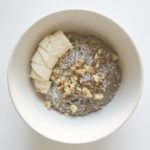 1 cup cashew milk
3 whole dates (pitted)
1 whole banana
1/4 cup chia seeds
1 tsp cinnamon
1 tsp vanilla
Blend 1 cup of milk, cinnamon, and vanilla with three pitted dates and 1/2 of the banana until smooth.

Next, add in the chia seeds and blend again but only for about 5 seconds to mix evenly.

Pour this mixture into your jar (or almost empty nut butter jar like me) and let it sit overnight!

In the morning, simply cut up the other half of your banana and add on top.

Add a little shredded coconut and cashew pieces on top for extra!