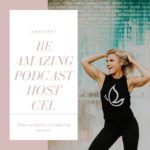 Be Amazing Podcast host Celia Smart chats virtually with April Simpkins, fitness enthusiast, runner, entrepreneur, wife and mother of SIX (including Miss USA)! April chats about how she balances two businesses, six children and fitness, what keeps her motivated and how she got into fitness from a young age.
April has received many awards and honors for her business acumen including the 2020 Women In Business Achievement Award from the Charlotte Business Journal and she was named one of Charlotte's 50 Most Influential Women by Mecklenburg Times.
April is a solid athlete. She placed 3rd in the Rock Hill, SC Battle of the Fittest competition. As an avid runner, she's run the NY Marathon, Charlotte Half Marathon, and the Charleston Half Marathon, to name a few. As a mother of six children, April has set quite an example. She raised three division one athletes (one went on to play professionally). April is also a classically trained pianist, traveler, and proud wife.