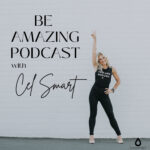 Meet Bekah Eljoundi is an ACE certified personal trainer and RRCA run coach. She previously served as the Regional Fitness Director and Master Educator at Orangetheory Fitness. Bekah has over 15 years experience in the fitness industry having taught Spin, Core/Balance, Bootcamp, Contact/Cardio Kickboxing, Zumba, Orangetheory Fitness, and Strength Training. She has also privately trained and taught group fitness at several corporate gyms including the Abercrombie Corporate Gym and American Signature/DSW Corporate Gym. Bekah is an Oxygen Elite Ambassador, Charlotte Marathon Ambassador, and On Running Ambassador.
Bekah's biggest passion is running. She has run 23 marathons and 6 Boston Marathons. She recently ran her last marathon earlier this month in Chicago at 6.5 months pregnant.
She loves to motivate her athletes to reach their fitness and running goals!
Connect & Follow Bekah on IG: @runcoachbekah
Website: https://www.runcoachbekah.com/