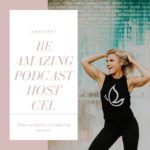 Carmello Baker is a wife, mom, and advocate, and author. Carmello shares how she had to make some life changing decisions regarding her career when her daughter was born. She discovered that her daughter was at risk of having seizures at nine months old. Several months later she was told that her daughter was globally delayed in development with epilepsy.
Although the news was heartbreaking, Carmello did not let the news keep her from doing all that she could to help her daughter grow and become stronger through her disabilities. As a matter of fact, she found strength in her faith, family, and fitness (mental, physical, spiritual, and emotional fitness). These things create balance and peace for her as she advocates and cares for her daughter and son.
The bond Carmello's children have led her the write her first children's book, Please Do Not Treat Me Differently. She hopes to encourage children and adults to find creative ways to interact with love and kindness with all community members, but even more so with those that have special needs. Those who can do the same things that we do, but it is just going to look a little different in the way that they do it. Her goal is to connect with others who share the same values about teaching kindness, anti-bullying, positive interactions, and empowerment in the communities.
Follow Carmello on IG: @carmellobaker
Carmello Baker Author of a Children's Book Titled: "Please Do Not Treat Me Differently"
http://www.carmellobaker.com