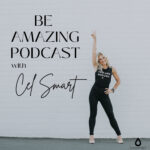 Today on the Be Amazing Podcast Cel sits down to chat with Sierra, Keristen, and Erika, coaches for Girls on the Run of Greater Charlotte. Listen in as they share their personal WHY for coaching and encourage others to join them.
What is Girls on the Run? Girls on the Run, a national 501(c)(3) nonprofit organization, is a physical activity-based positive youth development (PA-PYD) program designed to enhance girls' social, emotional and physical skills and behaviors to successfully navigate life experiences. The program's intentional curriculum places an emphasis on developing competence, confidence, connection, character, caring and contribution in young girls through lessons that incorporate running and other physical activities. The life skills curriculum is delivered by caring and competent coaches who are trained to teach lessons as intended.
Girls on the Run International is the parent organization to 185+ local councils, serving over 200,000 girls annually.
We are excited to have the Be Amazing Pop-Up 5k Run/Walk on Oct 15th benefiting Girls on the Run. Go to https://www.beamazingweekend.com/ now to register.
Learn more about Girls on the Run by visiting https://www.girlsontherun.org/
Follow on IG: @gotrgreaterclt @girlsontheruninternational