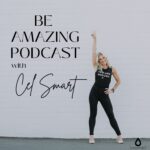 This week Cel chats with Kerry Barr O'Connor, Executive Director Dress for Success Charlotte. A former newscaster, Kerry changed career directions after becoming involved with the AmeriCorp VISTA program. She has since worked with non-profit organizations in New York, Ohio and North Carolina developing nationally recognized initiatives.
Kerry was named Executive Director for Dress for Success Charlotte in 2005 and charged with re-building the organization shut down due to a lack of sustainable funding. In 2009, Dress for Success Charlotte moved its operations to a newly renovated Boutique and Career Transformation Center. The design won the internationally coveted "Design Is" Global Award from Shaw Contract Group and named the 2010 "People's Choice" with more than 400,000 votes.
A Women's Advancement Center, Dress for Success Charlotte provides a continuum of workforce development services, including job preparedness, job acquisition, employment retention, and career advancement to more than 800 women annually who are seeking employment as a means to achieve economic independence and strengthen their families. In 2015, DFS Charlotte hosted the Worldwide Annual
Leadership Conference resulting in a significant economic impact for Charlotte. Kerry's awards and recognition include the National Association of Women Business Owners Nonprofit Leader of the Year, Rotarian of the Year, Charlotte Business Journal Women in Business Award, Career Mastered Women's Leadership in Action Award, Charlotte Business Ledger 40 over 40, and The Links, Inc. National Trends and Services
Facet 2021-2022 Crowning Achiever. She is a former member of the Dress for Success Worldwide Board of Directors.
Follow on IG:@dfscharlotte
Website:https://charlotte.dressforsuccess.org/