Blueberry Avocado Banana Smoothie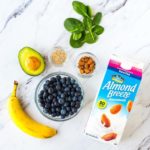 This smoothie is packed with antioxidants, fiber, and healthy fats!
1/2 cup unsweetened almond milk
1 cup spinach
1 medium banana (peeled)
1/2 medium avocado (ripe, peeled and pitted)
2 cups blueberries (frozen, or use fresh blueberries and add ice)
1 tbsp flaxseed meal (ground)
1 tbsp almond butter (may substitute whole almonds)
Add all ingredients to a blender in this order: almond milk, spinach, banana, avocado, blueberries, flaxseed meal, almond butter.

Blend until smooth!

If you like thicker smoothies, you can add ice. If you prefer thinner smoothies, add more almond milk.
Photos: https://www.wellplated.com/blueberry-avocado-banana-smoothie/