Blueberry & Banana Overnight Oats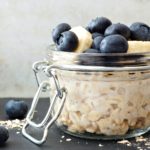 1/2 cup rolled oats
1 tsp chia seeds
1/2 cup unsweetened coconut milk (or supplement milk of choice)
1/4 tsp pure vanilla extract
1/4 whole of a banana (peeled and chopped)
1/4 cup of blueberries (fresh or frozen)
1/2 tbsp Trader Joe's maple butter
In a 16-ounce mason jar combine the rolled oats and chia seeds.
Pour in the coconut milk and then place the bananas and blueberries on top of the oats.
Place the lid on and store in the refrigerator overnight.
Stir the oats and add in the pure maple syrup and a little extra coconut milk to loosen up the oats. Enjoy cold.
*These jars can be made 3-5 days ahead of time.
[nutrition-label]