Breakfast Egg Muffins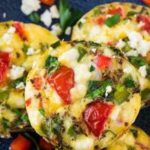 Low carb egg muffins that you can store in the freezer and reheat when needed! Perfect for those busy mornings!
1 cup baby spinach (chopped)
3/4 cup red bell pepper (finely diced)
3/4 cup green bell pepper (finely diced)
3/4 cup cherry tomatoes (quartered)
6 large eggs
4 large egg whites
1/4 tsp kosher salt
1/4 tsp dried basil
1/4 tsp dried oregano
pinch ground black pepper
1/4 cup feta (crumbled)
Preheat oven to 350*F.

Lightly coat a standard 12-cup muffin tin with nonstick spray.

Divide the spinach, red bell pepper, green bell pepper, and tomatoes among the cups. (About two-thirds of the way full.)

In a large measuring cup with a spout, whisk together the eggs, egg whites, salt, basil, oregnao, and pepper unitl combined.

Carefully fill each muffin cup three-quarters of the way to the top with the egg mixture.

Sprinkle feta evenly over the tops of the cups.

Bake for 24-28 minutes, until the egg muffins are set.

Let cool for a few minutes and then run a butter knife around the edges of each uffins to loosen it.

Enjoy immediately or let cool on a wire rack and refridgerate or freeze for later!
Store in fridge for up to 3 days or individually wrap and freeze for up to 3 months!
Reheat in microwave for about 30 seconds (from fridge) or 1 inute or so (from frozen).
Feel free to swap out ingredients and use your favorite breakfast ingredients! Try adding sausage, ham, cheddar, bacon, etc.!
Photo from: https://www.wellplated.com/healthy-breakfast-egg-muffins/