Bun-Free Turkey Burger with Cumin Lime Sweet Potato Fries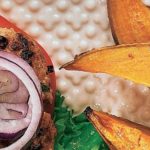 1 whole tomato (sliced)
1 whole head of lettuce (bun replacement)
1 whole raw onion (sliced)
1 lb lean ground turkey
1 tsp paprika
1 tsp garlic salt
1 pinch of black pepper
1.5 lbs sweet potatoes
2 tbsp olive oil
1 tsp cumin
1/4 tsp salt
1/4 whole bunch fresh cilantro
1 whole fresh lime
1 tsp avocado oil
Preheat the oven to 425ºF. Peel and slice the sweet potatoes into 1/2 inch wide sticks. Place the sweet potatoes on parchment paper on a large baking sheet and drizzle with olive oil. Sprinkle the cumin and salt over top.
Pull the cilantro leaves from the stems and roughly chop. Add about 3/4 of the cilantro to the baking sheet with the sweet potatoes, reserving some to add fresh after baking. Toss the sweet potatoes until they are evenly coated in oil, cumin, salt, and cilantro.
Roast the sweet potatoes in the oven for 20 minutes, stir, and return to the oven. Roast for about 15 minutes more, or until the sweet potatoes are blistered and browned on the edges.
While the potatoes are roasting, combine garlic salt, pepper, paprika with your ground turkey. Split mixture into 4 parts and form into burger patties.
Lightly spray your skillet with avocado oil and bring to medium heat. Add your patties to the skillet and cook through (about 5-6 minutes each side). Cover with a lid while burgers cook.
After the sweet potatoes have finished roasting, add the remaining cilantro and squeeze fresh lime juice over top.
Once the burgers have fully cooked, remove from heat and serve immediately. Add your selected garnish to your turkey burger, tomato, onion, lettuce and mustard and enjoy with your fries!