Real food tastes good.  Am I right?  The problem is that when I make it, oh wait, there's the problem right there, I NEVER cook. Lol. And neither does my boyfriend. Darn!  Sometimes I wish I lucked out and dated a four-star chef, but since that's not the case, I guess I will have to settle for Project LeanNation (PLN), which to me, is just as good.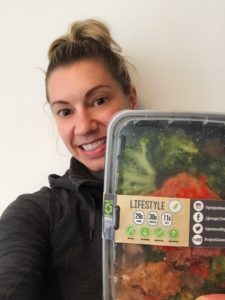 What exactly is PLN? Hmmmm, good question. If you had mentioned it to me a few weeks ago, I probably would have thought PLN was short for "per last night" or "please, like now" (seems like a legit millennial saying, right?).  I had no idea PLN was an amazing meal service, until a few weeks ago.  When I first heard a friend mention it, I was immediately like hmm, I wonder if their meals are expensive, but even more so, I wonder if they're any good? So I went online and read their website, and I loved it. Then I did the next best thing and read their yelp reviews (because honestly, there are yelp reviews for EVERYTHING), and again, it was all good.  Everything I read sounded good to me, so I figured maybe it's a sign of something I needed in my life.  Before that would happen though, I had to take on the hardest part of this venture, and try to get my boyfriend on board.  You see we "cook" (i.e. put frozen chicken on a skillet with veggies to make fajitas) together, so if I was signing up, I figured he probably would too.  I mean nobody wants to "cook" for a party of one, or maybe I am just speaking for myself
Anyway, I mentioned it to him later that day and he was intrigued.  Woo hooo!  Then the craziest thing happened; I went on a jog by the South End light rail, and I legit saw three or four signs for Project LeanNation. I swear it was a sign from above, or just a coincidence of the company being located near us (in South End), but either way, once I saw the "signs" (hehe), I knew we had to give it a try. So we did. And now I am obsessed.
Five reasons why I love Project LeanNation:
The Mission. What's not to love about a company whose mission is to "eat clean, live lean?"  I mean eating clean is the best way to eat.  Eating whole foods, such as the meals they provide, has so many benefits, one of which is that it can in fact help you get lean.  And, speaking of getting lean, PLN has an InBody Test at their store so you can monitor your progress throughout the program.  Curious to see how you are doing, no problem, just hop on the machine and in no time you will get a full body analysis printed out for you.
Many. Options. There are so many options when it comes to your meals that you will never get sick of it.  While they technically only have four options for protein (beef, fish, turkey and chicken), they have a multitude of sides that come with it.   Plus, the proteins can come in so many different forms such as meatloaf, burger style, shredded, baked, etc, that you will never get bored. Plus, each meal has various sauces and spices to keep it different (and fun).
With PLN, you choose your meal program based on your workout level, body size, goals, etc.  You can opt for the "Lifestyle" (basic program that comes in men's or women's portions), "WholeLife" (Whole30 approved) or "Athlete" (bigger portions) program.  Once you pick your program, you can then customize your meals even further.  Say you don't like fish, or brussel sprouts, or anything the color purple (hey, some people are picky right?), well whatever it is you don't like, they will simply provide you with meals that you do like.  Plain and simple:  they want you (and your tummy) to be happy.  Sounds awesome to me!
Portion control. Sometimes it's not about what you eat, but rather how much.  You may be eating healthy, but too much of anything is never good.  The great thing about PLN is that each meal is pre-portioned based on your program (mentioned above).  So with each meal you will get your set amount of protein, carbs and fat.  Also, each meal has a nutrition label providing you with a complete list of what is in said meal (calories, fat, protein, etc) so you can see it all for yourself.  All this really all means is that you never have to worry about overeating at meals again.  Your stomach will definitely thank you.
The price is right! Ok let's talk pricing.  Think about how much you spend for lunch or dinner when you go out.  Most likely you spend more than $10 a meal, right?  Well with PLN, you can get about a week's worth of meals (I'm talking six days of lunches and dinners) for $85.00.  That comes out to $7.08 a meal.  Ummm, now that's a good deal!  Please note they will be starting up a breakfast option soon.  I don't know about you, but I can't wait!  This girl loves her eggs!
And there you have it, my five reasons for loving PLN, well six if you add the fact that SweatNet members get a discount!  Yup, you heard me right. Being a member of SweatNet saves you even more money each week at PLN.  So really, what's not to love about it?
I think you know what you need to do next.  Go to Project LeanNation, tell them I sent you, and sign up for a meal program.  Your body (and wallet) will definitely thank you.