I recently ran my 6th marathon while raising money for charity. I like as much distraction as possible, as much support as possible and as much motivation as possible. So, I decided to run the Chicago Marathon and raise money for the Leukemia & Lymphoma Society through their Team in Training (TNT) program. Some folks assume that since I have run these types of races before, that it will be a piece of cake. Not so much. That's like assuming labor will be easy-peasy for a woman who has given birth, or that just because you've been through one break-up, you will be fine the next time a relationship ends. The 6th marathon is just as mentally and physically challenging as the first – that goes for training as well – and this training kicked my butt.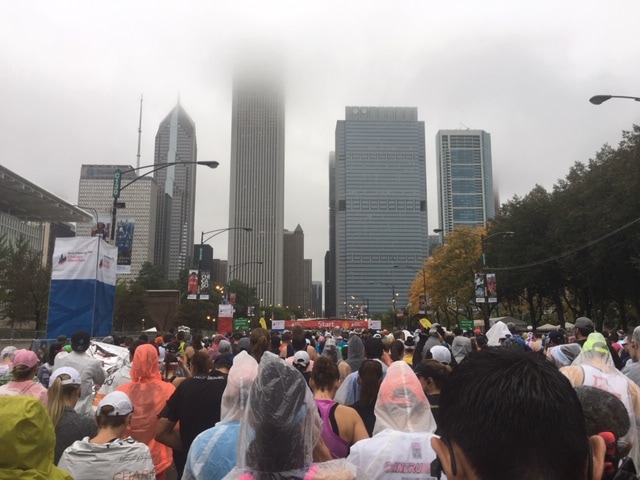 Each marathon has happened to coincide with very different stage of my life. During one race, I was single and employed – for another I was an unemployed, single mom. This time around, I am a business owner, newly engaged and blending families/households, and recently orphaned. I lost both of my parents in about a year and a half. My dad to cancer and my mom to Alzheimer's. Both of those diseases suck. A lot. This run was in memory of my dad.
I had trained for races with TNT before – triathlons, century rides and marathon – amazing program that can help any one (and I mean anyone) train for just about any event – all while raising money for a great organization (FYI – I didn't even own a bike when I decided to do a triathlon with them – I mean, it was in Hawaii – so I could find a bike for that!). My last marathon with TNT was just over 3 years ago in Vancouver, which happened to be my best finish time – 4 hours, 29 minutes and 30 seconds to be exact. And that included some knee issues and some hills, so I thought to myself – surely I can beat that time in Chicago. It's a flatter course, and I was going to take precautions to make sure my knee was healthier. Granted, after Vancouver, I was ecstatic to break the 4hr 30min mark – woo hoo! But here's the thing. You accomplish one goal… another one creeps in. Now I had visions of breaking my record by at least 15 minutes. Here's the other thing – we make up goals in our head that only mean something to us. Me cutting my marathon time down a few minutes was not going to change the world in any way. Nor would it make it any less of an accomplishment if I didn't break it. Sometimes though, the goal takes over and we put pressure on ourselves to reach it or else we feel like we failed. This race taught me that that is far from the truth.
As it happens in life, things did not go as planned. The TNT program changed in a way that threw me for a loop. No more group runs, which I used to love! Might not seem like a big deal, but it now meant I needed to plan all my own routes, figure out hydration and motivate myself on long runs. If I had figured it out earlier, I would have sought out a running program through a running store or local group, but timing did not work out. Then, I realized, it was now harder to have a routine running schedule. Owning a business, family and travel did not allow me to set a certain day/time for long runs, which can take a toll on the body and mind. The humid weather didn't help either and I had issues with dehydration. Throw in the emotions of running this race in memory of my dad and my goal of beating my time seemed impossible.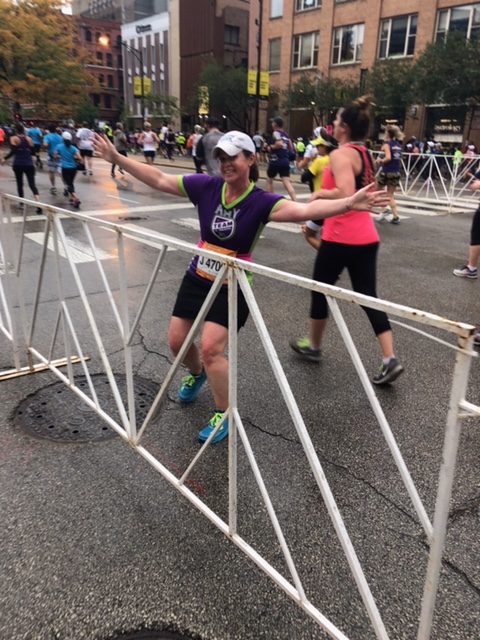 I finally had to admit that I was not going to PR. And then I had to be OK with that. That took a while. One reason for running Chicago was to improve my time. I mean – everyone always asks you after you race, "What was your time?" FYI – I would suggest asking someone that finishes a big race a different question such as, "How did you do?" or "How was the race?" Time can be a sensitive question. I mean, you don't ask someone how much they make, but you do ask them what they do for a living. It's similar. So new goal – finish the race. That's it. I wasn't going to even wear a watch or keep track of my time. I wasn't going to stress if I had to walk any of it. I was going to enjoy it and soak in the motivation from all of the TNT runners. Truth was – part of me was still frustrated I had to shift my focus.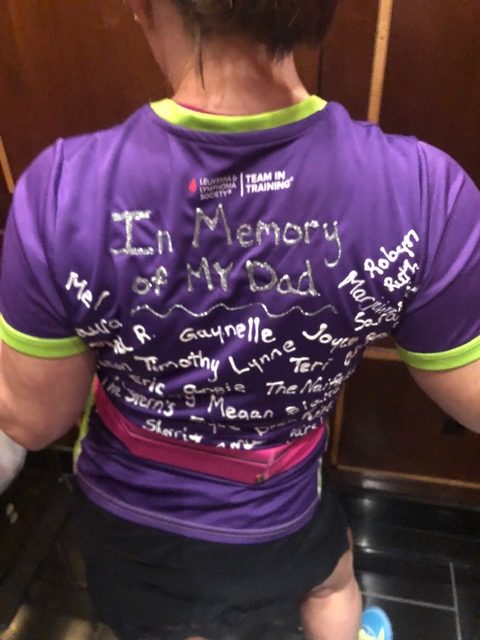 Race day came and it was rainy, it was windy and cloudy, but not horrible. No watch and no pacing. I stopped at the port o potties 3 times along the course (which I would never if I cared about my time) and got bio freeze many times and Motrin along the way for my knee. But I also got to hi-five cops and kids along the way. And the coolest part – I connected with other runners. On the back of my shirt, along with the names of all those that had donated, I had written in puffy paint "In Memory of My Dad". I got support from an oncology nurse, runners telling me "your dad is proud of you", and got encouragement from a woman who lost her dad just a month ago. It took me 5 hours, 32 minutes and 40 seconds to cross the finish line. Out of 6 marathons, that ranks 5 on the list of times. And at first, that was a little disappointing. I knew I wasn't going to break any records, but I wanted to do better than that! And that's just plain stupid. I ran a marathon. 26 – point -2 miles. I finished it. Through all the ups and downs of my life – I completed the Chicago Marathon (which is an awesome race by the way).
If I had known from the beginning that training would go like that or I would not get close to breaking my record, I probably would not have done it. We just never know how things will go. You can have one goal in mind and sometimes life throws a curveball – maybe small, maybe big. There is no guarantee that we will lose a certain amount of weight or fit into a certain pair of jeans in a set amount of time or PR a race. My goal changed drastically along the way – but it doesn't make it any less of an accomplishment and I'm so glad I did it. We are our worst critics, but maybe we should be our biggest cheerleaders. It really is all in our heads. Don't get down on yourself, keep going, enjoy the journey, find support, cry, laugh, acknowledge frustrations, pat yourself on the back, regroup, celebrate small victories. As Dory would say "Just keep swimming." We are worth it.