Chicken and Apple Sausage with Cabbage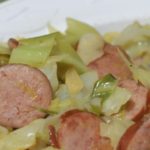 1 tbsp extra virgin olive oil
1 lbs packet of Applegate Farms Chicken & Apple Sausage (sliced)
1 whole small head cabbage (core removed, coarsely chopped)
1 whole large sweet onion (sliced into large pieces)
3 cloves garlic (minced)
2 tsp stevia (optional)
1/2 tsp salt
1/2 tsp black pepper
2 tsp rice wine vinegar
1 1/2 tsp dijon mustard
1 tablespoon extra virgin olive oil
1 packet of Applegate Farms Chicken & Apple Sausage, sliced
1 small head cabbage, core removed, coarsely chopped*
1 large sweet onion, sliced into large pieces
3 cloves garlic, minced
2 teaspoons stevia (optional)
1/2 teaspoon salt
1/2 teaspoon black pepper
2 teaspoons rice wine vinegar
1 1/2 teaspoons dijon mustard
Heat olive oil in a large nonstick sauté pan over medium-high and add sausage. Cook for about 4 minutes. Transfer to a plate.
In the same pan with the leftover liquid from the sausage, add the sliced cabbage, onions, garlic, stevia (optional), salt, and pepper. Stir to combine and cook for about 5-8 minutes (depending how tender you like the vegetable), stirring occasionally until cabbage begins to turn translucent.
Mix in the vinegar and mustard and combine until evenly coated; add the sausage back to the pan and cook for another 2 minutes to heat through. Taste and adjust seasoning, if necessary.
Serve immediately and enjoy!
*Save time and buy bagged slaw mix at the grocery store, and swap out for the head of cabbage. Save on the prep time!
[nutrition-label]