Chicken Harvest Skillet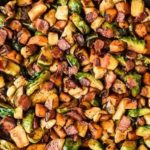 Healthy Paleo and Whole 30 chicken skillet packed with flavor!
1 tbsp olive oil (may substitute avocado oil)
1 lb chicken breasts (boneless, skinless, cut into 1/2 inch cubes)
1 tsp salt
1/2 tsp black pepper
4 slices bacon (thick cut, chopped)
3 cups brussels sprouts (trimmed and quartered)
1 medium sweet potato (peeled and cut into 1/2 inch cubes)
1 medium onion (chopped)
2 granny smith apples (peeled, cored, and cut into 3/4 inch cubes)
4 cloves garlic (minced)
2 tsp thyme (fresh, chopped (or 1/2 tsp dried thyme))
1 tsp ground cinnamon
1 cup chicken broth (reduced sodium)
Heat oil in a large nonstick or cast-iron skillet over medium-high heat. Add chicken, 1/2 teaspoon salt and black pepper.

Cook until lightly browned and cooked through, about 5 minutes.

Transfer to plate lined with paper towels.

Reduce skillet heat to medium-low and add chopped bacon and cook until crisp, about 8 minutes.

Transfer bacon with a slotted spoon to a plate lined with paper towels.

Discard all but 1.5 tablespoons bacon fat from the pan.

Increase skillet heat to medium-high and add brussels sprouts, sweet potato. onion, and the remaining 1/2 teaspoon salt.

Cook, stirring occasionally, until crisp and the onions are beginning to look translucent, about 10 minutes.

Stir in the apples, garlic, thyme, and cinnamon.

Cook for 30 seconds, then pour in 1/2 cup of the broth.

Bring to a boil and cook until evaporated, about 2 minutes.

Add the chicken and the remaining 1/2 cup broth.

Cook until heated through and stir in bacon, Serve warm!
Photo from: https://www.wellplated.com/chicken-apple-sweet-potato-and-brussels-sprouts-skillet/?utm_term=whole%2030%20recipes&utm_campaign=8232558253