Chicken Zucchini Meatballs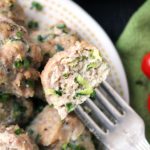 1 lb ground chicken breast (raw)
2 cups grated zucchini (leave peel on and squeeze out some of the liquid with paper towels or a clean kitchen towel)
2-3 whole green onions (sliced)
3-4 tbsp cilantro (minced)
1 clove garlic (minced)
1 tsp salt
1/2 tsp pepper
3/4 tsp cumin (optional)
In a large bowl, mix together chicken, zucchini, green onion, cilantro, garlic, salt, pepper, and cumin (if using). Mixture will be quite wet. Scoop meatballs with a small scoop or heaped tablespoon and gently smooth with your hands. I can usually get around 20-24 poppers. You may be able to get more or less, depending on how large you size them.
Preheat oven to 400 degrees. Drizzle a bit of olive or avocado oil onto a baking sheet lined with foil. Bake at 400 degrees 15-20 minutes, or until cooked through. If desired, place under the broiler for an additional 2-3 minutes or until browned on top.
Serve with guacamole, salsa, or your favorite dip.