Cranberry Pistachio Honey Bites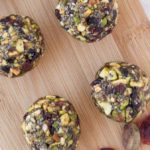 A perfect snack to eat when that mid-day slump comes around and you need a boost of energy!
1/2 cup pistachios (raw)
1/3 cup dried cranberries
1/4 cup dates (pitted and chopped)
1 tbsp honey
1 tbsp chia seeds
Place the pistachios, cranberries and dates in a food processor and pulse until combined.

Add honey and chia seeds and pulse a few more times until combined.

Roll mixture into evenly sized balls.

Feel free to freeze them!
Photo from: https://paleogrubs.com/cranberry-pistachio-honey-bites