Crimini Mushroom and Chicken Soup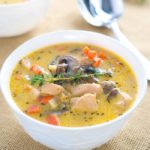 1 tbsp olive oil
8 oz boneless (skinless chicken thighs, 1 inch cubed chunks)
2 tbsp ghee
1 pinch sea salt and pepper
3 cloves garlic (minced)
8 oz cremini mushrooms (thinly sliced)
1 whole yellow onion (diced)
3 whole carrots (peeled and diced)
2 whole stalks celery (diced)
1/2 tsp dried thyme
1/4 cup all-purpose flour (or substitue arrow root starch)
4 cups chicken stock
1 whole bay leaf
2/3 cup fat free milk
1/4 cup heavy cream
2 tbsp chopped fresh parsley leaves
Heat olive oil in a large stockpot or Dutch oven over medium heat. Season chicken thighs with salt and pepper, to taste. Add chicken to the stockpot and cook until golden, about 2-3 minutes; set aside.
Melt ghee in the large pot over medium heat. Add mushrooms, onion, garlic, carrots and celery. Cook, stirring occasionally, until tender and vegetables become translucent, about 3-4 minutes. Stir in thyme, about 1 minute.
Whisk in flour until lightly browned, about 1 minute. Whisk in chicken stock, bay leaf and chicken thighs, and cook, whisking constantly, until slightly thickened, about 4-5 minutes.
Stir in milk and cream until heated through, about 1-2 minutes; season with salt and pepper, to taste. If the soup is too thick, add more half and half as needed until desired consistency is reached.
Serve immediately, garnished with parsley.