Vegetable Fritters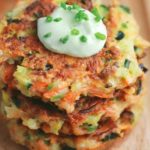 Super easy, quick and crispy!
2 cups zucchini (shredded)
2 cups carrot (shredded)
2 cloves garlic (minced)
2/3 cup all-purpose flour
2 large eggs (lightly beaten)
1/3 cup scallions (sliced)
1 tsp vegetable oil (may substitute olive oil or avocado oil)
1/4 tsp salt
1/8 tsp pepper
3 tbsp sour cream (for serving; may substitute yogurt)
Place shredded zucchini in a colander and sprinkle lightly with salt.

Let zucchini sit for 10 minutes and then squeeze out as much liquid as possible.

Transfer the zucchini to a large bowl then add carrots, garlic, flour, eggs, scallion, salt, and pepper.

Stire the mixture until combined.

Line a plate with paper towels.

Place a large pan over medium-high heat and coat the bottom with oil.

Once the oil is shimmering, scoop a small amount of the vegetable mixture into the pan and flatten with a spatula.

Cook the fritters for 2-3 minutes then flip once and continue cooking them for an additional 1-2 minutes, until golden and crispy.

Transfer fritters to the paper towel-lined plate and season with salt.

Serve the fritters immediately with sour cream or yogurt.
Photo from: https://www.jessicagavin.com/crispy-vegetable-fritters-with-avocado-yogurt-sauce/