Cruciferous Crunch Salad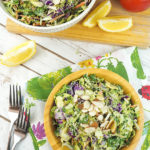 2 cups kale
2 cups broccoli florets
2 cups brussels sprouts (roughly chopped)
2 cups red cabbage (roughly chopped)
1 cup carrots (roughly chopped)
1/2 cup fresh parsley
1/2 cup almonds
1 tbsp sunflower seeds (up to 2 tbsp if desired)
3 tbsp olive oil
1/2 cup lemon juice (or juice of two lemons)
1 tbsp. fresh ginger (peeled and grated)
3 tsp/ Dijon mustard
2 tsp. honey (or maple syrup)
1/4 tsp. Sea Salt
Using a food processor, process all the veggies up to the parsley until finely chopped and mix together in a large bowl. This may take a few batches.
Add almonds to the food processor and pulse, until roughly chopped, and mix in with the salad along with the sunflower seeds.
In a small bowl, whisk together all the ingredients for the dressing and drizzle over top of the salad OR place in a jar and use as needed.