Curry Chicken Cauliflower Rice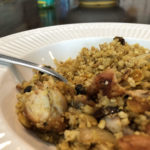 This makes the perfect dinner or make a big dish for your meal prep for the week!
1 lbs chicken breast (cubed)
1 whole onion (diced)
1 tsp sea salt
3 tbsp coconut oil (divided, can use avocado oil)
2 tsp garlic (minced)
1 tbsp curry powder
1 tsp cinnamon
1/4 cup almonds (sliced)
1/4 cup raisins
16 oz cauliflower (riced)
1/2 cup cilantro (chopped)
1 tsp pepper (or to taste)
In a large skillet over medium heat, add 1 tbsp coconut or avocado oil and the raw cubed chicken. Cook for 4-6 minutes or until chicken is cooked all the way through. Remove from skillet and reserve.

Add additional tbsp of oil to the skillet. Add chopped onion and salt. Cook until onions are translucent.

Add garlic, almonds, raisins, curry powder and cinnamon to skillet and stir.

Add another tbsp oil to the skillet and pour in the riced cauliflower. Cook for 4-5 minutes, stirring frequently.

Add chicken back in and stir in cilantro. Check flavor and add additional salt and pepper to taste.