…they get punched in the mouth" – Mike Tyson. Like many people, I have gone thru various stages of life as different versions of myself. I like to look at every version as an experiment.  This experiment for the most part has been centered around nutrition and exercise.  I've journaled my food, meal prepped, done the protein shake thing and was even vegan for a three years. Through those years and versions of myself I've realized the less I think about it, the better I become at it.  The minimum effective dose!
Let's take a look back at the choices you started to make at the beginning of the year to become a different version of yourself.  Yeah, you remember just a few weeks ago when you were gung ho about your New Year's Resolution.  Can you believe how fast those weeks flew by?  How is your motivation now, how is your excitement of meal planning going now that we are moving into the second month of 2018?  What are you taking with you from the past few weeks and how are you moving forward to make a major impact on your lifestyle? How are you going to make this new lifestyle sustainable?
Losing motivation and convenience sometimes sabotage all best efforts.  Meal planning starts to become inconvenient and you end up right back where you started. It gets exhausting thinking about what you need to take out of your diet, what you need to put into your diet.  When you should exercise and when you should eat to support that exercise.  I'm exhausted just typing that out.  Getting lost in the minutiae of most everything is paralyzing, don't let meal planning, food journaling or counting stop you from making progress.
I want to share a tip with you that I learned from Robb Wolf robbwolf.com a little while ago which changed one of those versions of myself and I become more efficient, remember the minimum effective dose I was talking about.  Simplifying things allows me to actually sustain the changes and implement them into my life.  This tip I'm about to show you is the reason I shrug my shoulders when people tell me I need to write a cookbook and post recipes.  I really have no recipes and I don't meal prep at all.
Personally I had to make things very simple for myself.  The present version of myself has a husband and three growing kids and one of those kids is close to 6ft tall at 14 years old.  If I had food prepped in the refrigerator for him and myself plus the others in our household, he would eat ALL said food.  I use the FOOD MATRIX below to create meals and cook at the same time, he then waits and eats his portion and we all can protect our portion with our butter knives.  Of course he can eat the leftovers; I'm not starving him if that's what you are thinking at this point!!!  And there, again another reason I have no leftovers, he eats all the food.
My scenario is different from yours and your scenario will be different at some point as well.  It's the next version of yourself.  So when life "GETS" really busy (who am I kidding everybody's life is busy right now – there is no "GETS").  Make sure you are prepared.
Enter the Food Matrix!
The Food Matrix Framework
Choose:  Protein + Carbohydrate + Fat + Spice =  Countless Meals
| | | | |
| --- | --- | --- | --- |
| PROTEIN | CARBOHYDRATE | FAT | HERBS & SPICE |
| Chicken | Asparagus | Coconut Oil | Basil |
| Beef Steak | Broccoli | Olive Oil | Dill |
| Beef Ground | Brussel Sprouts | Avocado Oil | Garlic |
| Pork Chop | Cauliflower | Sesame Oil | Ginger |
| Pork Roast | Cabbage | Ghee | Oregano |
| Salmon | Kale | Olives | Cilantro |
| Shrimp | Mushrooms | Coconut Milk | Mint |
| Crab | Spinach | Almond Butter | Tarragon |
| Scallops | Peppers / all colors | Sun Butter | Turmeric |
| Lamb | Zucchini | Nuts | Paprika |
| Eggs | Mixed Greens | Seeds | Chili Powder |
| Mussels | Berries | Avocado Mayo | Cumin |
| Turkey | Tomatoes | Avocado | Curry |
Building a framework for clean and traditional food in your diet you should essentially have a baseline/control diet of all three Macronutrients: Protein, Carbohydrates, and Healthy Fats and then spice them all up. No matter what diet tribe you are experimenting with at this specific time in your life, this food matrix can work.  This is my personal food matrix above.
It simply starts by picking one item from each column to create your meal (2 or 3 when it comes to the spices, you can go crazy).
Example Meal:
Beef + Broccoli + Ghee + (Ginger and Garlic) = Beef & Broccoli in a Garlic & Ginger Sauce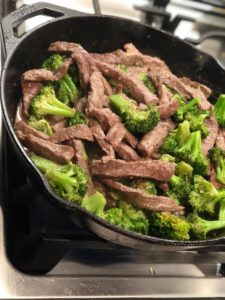 or (just change a few things around)
Pork + Cabbage + Ghee + Garlic = Pork and Sautéed Cabbage or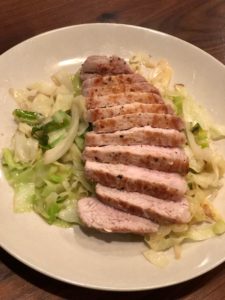 Chicken + Red Peppers + Olive Oil + Cumin = Fajita Chicken
When you structure your meals with all three macronutrients you set up your body to feel satisfied and have energy. Feeling and learning to listen to your body will help in having better long term success in healthy eating.
Creating your plate at each meal full of nutrient dense food is as simple as the equation above and a couple of easy guidelines.  Protein should be the size of your palm or fist.  Carbohydrates should fill the rest of the plate.  Fats should complete it. Add oils, nuts, seeds and their like butters (about two thumbs worth) to the top of your meal.  You should use your entire plate to create your meal. Adjust your portions on your hunger, fullness and overall activity. No need to count, measure weigh your food.  Guess what?  You can do this at a restaurant too.
Like I said before, being prepared is key to your success but it doesn't have to be that difficult.  Making your own personal FOOD MATRIX can easily turn into your shopping list.  Create your personal food matrix before you go shopping so you will have all those ingredients available during the week.
You may not like everything on my personal food matrix, so yours will look different from mine.  You may not like all the Protein in my column, you may not like all the Carbohydrates that are in my column or you may want to add more, this is where you get to choose the foods you eat and stock your pantry and fridge with those foods you will eat and the end product is countless meals at your fingertips and you don't have to follow a recipe.
Here are a few tips to think about while you are making your personal food matrix
Protein:  Good sources of protein are meat, fish, poultry and eggs.  Even some canned items like tuna and salmon are great to have on hand for making quick last minute meals.
Carbohydrates: Frozen vegetables and fruits are a timesaver and save you from making trips back and forth to the grocery store.  Pre washed leafy greens and precut veggies are great to have on hand and convenient to make quick salads or stir fry.  Canned and jarred vegetables are great too, just make sure to read the ingredients make sure they are not full of words you can't pronounce.
Fat:  Get rid of highly refined oils such as corn, canola and soy.  Fill your pantry with healthy fats such as olive oil, avocado oil and coconut oil.  Choose nuts and seeds as well to add crunch to your salads or flavor to sauces.  Olives and coconut (unsweetened) provide great bases for sauces as well as toppers for salads.
Herbs & Spices:  These micronutrients make food more interesting but also add tons of nutrients, phytochemical and reduce inflammation while regulating other biological processes in the body.  If you purchase spice blends make sure they do not contain additives and preservatives.  You can keep fresh herbs in jars with water at the bottom to maintain freshness in your refrigerator.
A simple shift away from processed foods is the key to your success.  It's also the common bond between all trending "diets".  Whatever your goal may be don't put too much pressure on yourself and make the process very simple.  Don't let the process paralyze you, make it work for you. Find your minimum effective dose.