Flourless Chocolate PB Muffins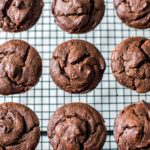 1 cup peanut butter (no stir/smooth, or almond butter)
2 whole banana (ripe and mashed)
2 whole eggs (at room temperature, beaten)
4 tbsp honey
1/2 cup unsweetened cocoa powder
1/2 tsp baking soda
1/4 tsp baking powder
1/4 tsp salt
1 oz chocolate chips (mini (optional))
Preheat your oven to 350°F. Place muffin liners in a standard 12-cup muffin tin and set it aside.
In a large bowl, place the peanut butter, bananas, eggs and honey, and beat with a handheld mixer until very well-combined.
Add the cocoa powder, baking soda, baking powder and salt, and mix with a spatula until just combined. Beat the mixture again with a handheld mixer until very well-combined. The batter should be thick but soft and as smooth as possible.
Divide the batter evenly among the prepared wells of the muffin tin, and shake the tin back and forth to distribute the batter in an even layer in each well. Sprinkle the optional miniature chocolate chips evenly on top of the batter in each muffin.
Place the tin in the center of the preheated oven and bake until the tops of the muffins are puffed and spring back and feel relatively firm when pressed gently in the center (22 to 25 minutes). Remove from the oven and allow to cool for 10 minutes in the tin before transferring to a wire rack to cool completely. You can also freeze these to save for later!