Garlic Butter Ground Turkey and Cauliflower Skillet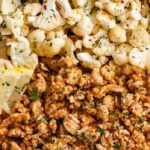 Easy, quick meal to throw together when you are busy!
1 lb ground turkey (ground chicken)
1/2 head cauliflower (sliced into florets)
2 tbsp vegetable oil
1 tbsp lemon juice
3 tbsp butter
2 tbsp garlic (minced)
1 tbsp onion powder
1/4 cup soy sauce (low-sodium; or coconut amino for Paleo)
2 tbsp hot sauce (or Sriracha)
2 tsp sesame oil
cilantro (freshly chopped; or parsley)
1/4 cup water
red chili pepper flakes
lemon
Place cauliflower into a microwave-safe bowl with 1/4 cup water and cover. Microwave for 4 minutes.

Heat a large skillet over medium-low heat with one tablespoon vegetable oil.

Saute the cauliflower florets in the skillet, until slightly golden brown.

Glaze with freshly squeezed lemon juice, fresh cilantro/parsley, salt and pepper. Toss to coat well and remove to a plate.

In the same skillet, melt butter with one tablespoon oil and cook ground turkey.

Once turkey meat is no longer pink, add garlic, onion powder and stir.

Then add soy sauce, water, and hot sauce and stir regularly for a couple minutes.

Push ground turkey to one side and add in the cauliflower. Reheat and coat cauliflower in the sauce.

Add a drizzle of sesame oil, sprinkle with cilantro, red chili pepper flakes and garnish with lemon.

Enjoy!
Photo from: https://www.eatwell101.com/garlic-butter-turkey-with-cauliflower-recipe