Roasted Garlic Dip and Beetroot Chips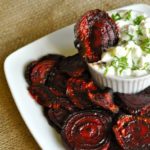 2 tsp olive oil
2-1/2 whole beets
1 tsp paprika
10 cloves of garlic (leave the outer layer of skin on)
1 cup of greek yogurt
1 tbsp olive oil
1 whole lemon
1/2 tsp cayenne pepper
Cut beetroots into thin circles. Brush lightly with olive oil and lay on a lined oven tray. Sprinkle with salt. (Cajun spice optional)
Place 10 cloves of unpeeled garlic on the same oven tray as the beetroot chips.
Roast the beetroot chips and the garlic at 180˚C for 30-40 minutes, or until the chips have started to crisp, and the garlic cloves have softened and changed to a nice light brown color. Turn the chips over halfway through cooking so they brown on both sides.
For the roasted garlic dip, take your roasted garlic cloves, pop them out of their skin and mash them in a bowl. Mix in Greek yogurt, 1 tbsp olive oil, juice from lemon, and a pinch of salt and pepper. Stir gently to combine everything.