Garlic Roasted Broccoli Rice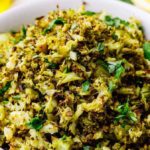 A great side item to substitute for mashed potatoes or rice on the paleo diet!
4 cups broccoli florets
3 cloves garlic (minced)
2 tsp parsley (fresh, chopped)
1 tsp lemon (juice)
2 tbsp olive oil
salt (to taste)
black pepper (to taste)
Preheat oven to 425*F.

Place the broccoli florets in a food processor and pulse until the micture resembles rice.

Transfer the broccoli to a non-stick baking sheet.

Add minced garlic and olive oil and stire to combine.

Season with salt and pepper.

Roast for 25 minutes, mixing halfway.

Remove from oven and add lemon juice and chopped parsley.
Photo from: https://paleogrubs.com/garlic-roasted-broccoli-rice