Garlic Shrimp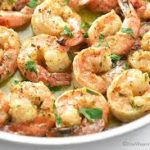 6 oz shrimp
1/2 tsp salt
2 tbsp chopped garlic
1 tbsp red wine vinegar
dried basil
1/2 cup white rice
In medium sized bowl, combine the salt, garlic, vinegar and basil.
Toss the shrimp in the mixture and thoroughly coat.
Heat greased skillet (pam, coconut oil, olive oil, etc) to medium heat and pour mixture into pan. Cook 4-5 minutes or until shrimp are pink in color. Serve over rice.