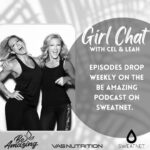 Weight gain during the holidays is something we would all like to have a stronger grip on.
We want to enjoy ourselves with friends and family, but, what are the ways we can do that while minimizing the ill-effects it may have on our health and fitness goals?
IN THIS EPISODE :
We offer you 3 practical tips you can use this holiday season to ensure you both enjoy yourself AND you take better care of yourself.
CONNECT WITH US:
Connect with Cel & Leah: @cpmethod @itscelsmart @leahelizabeth_v
WEBSITE: https://www.cpmethodfit.com/
Sponsors : @Sweatnet @Vasnutrition @beamazingweekend
Join us for GLOW on Nov 5th. Click the link below to register now.
https://www.eventbrite.com/e/glow-registration-413321334237
Promo Code: Glow22