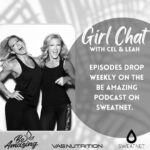 IN THIS EPISODE:
Deep breath, enjoy the craziness of the holidays and soak up the hustle and bustle of the season! Speaking of the holidays, join us for our FREE 30 Day Challenge Wellness Calendar on Dec 1st
• Go to our cpmethodfit.com
• Click on the 30 Day Challenge Wellness Calendar
• Check your email for the link to download and invite to join our Girl Chat
group community on Facebook
• Invite a friend to do it with you for accountability.
Do us a favor and LIKE , SHARE, and REVIEW this podcast so we can continue to reach as many people as possible.
We also recap our GLOW event and each share our takeaways. 
CONNECT WITH US:
Connect with Cel & Leah: @cpmethod @itscelsmart @leahelizabeth_v
WEBSITE: https://www.cpmethodfit.com/
Sponsors : @Sweatnet  @Vasnutrition @beamazingweekend