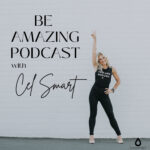 IN THIS EPISODE :
Let's discuss control. Does it drive you to the point you can't ever let your guard down and relax?
https://everydaypower.com/learning-to-let-go-and-trust/
"What we don't always realize is that control – and the need to control – is about fear."
Tips on Learning To Let Go and Trust
Scripture
• When I am afraid, I put my trust in you.
Psalm 56:3
CONNECT WITH US:
Connect with Cel & Leah: @cpmethod @itscelsmart @leahelizabeth_v
WEBSITE: https://www.cpmethodfit.com/
Sponsors : @Sweatnet @Vasnutrition @beamazingweekend