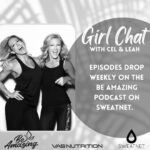 IN THIS EPISODE :
Cel and Leah discuss friendship and the importance of having the right people around you, what research considers "good friendship," and their thoughts and opinions around the qualities they value in relationships
The Qualities of A Good Friend
Feeling good. Good friends say nice things to each other. …
Supporting each other. …
Love the differences. …
Be a good listener. …
Be a trustworthy friend. …
Maintain respect and respectful boundaries. …
Give them your time. …
Reciprocal connection.
CONNECT WITH US:
Connect with Cel & Leah: @cpmethod @itscelsmart @leahelizabeth_v
WEBSITE: https://www.cpmethodfit.com/
Sponsors : @Sweatnet  @Vasnutrition @beamazingweekend