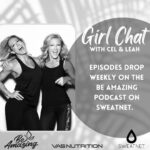 IN THIS EPISODE :
Cel and Leah speak to their younger selves, what they've learned, what they miss and what has changed since the early days of fitness.
Priorities, sacrifice and honesty, how these three play a key component to reaching your goals. 
Check out this amazing athletic apparel line: https://www.imperfectmommers.com/
Use Promo Code: 5YRS (get 30% off your order)
Leave us a review, like and share the podcast. We'd love to hear from you !
CONNECT WITH US:
Connect with Cel & Leah: @cpmethod @itscelsmart @leahelizabeth_v
WEBSITE: https://www.cpmethodfit.com/
Sponsors : @Sweatnet @Vasnutrition @beamazingweekend