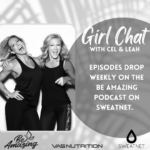 Have you been through or going through a battle in life and felt like you have no one to turn to ? We all have struggles. It's learning to glean and have faith in the midst of it. Finding your people to help encourage and build your faith is key.
In this episode, Cel & Leah talk about:
Fitness, Friendship, Faith, Food, Fun, Family …they touch on it all!
Leah interviews Celia, who is often behind all the questions and shares more about what she does and who she is. They talk about how nothing is "one size fits all" in any area, but how we can get started no matter what season of life we're in.
Connect with Cel & Leah: @cpmethod @itscelsmart @leahelizabeth_v
Sponsors : @Sweatnet @Vasnutrition
Connect with us on our Facebook Page: Girl Chat