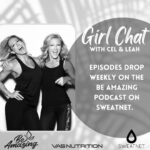 This episode Cel & Leah talk about goals and the importance of sticking to a plan. Pushing past the hard places. If you fall off the plan one day, jump back on the next. Just Don't Quit.
Quote:
"It Takes 4 weeks for you to notice your body changing. 8 weeks for your friends and family. 12 weeks for the rest of the world. Never Give Up EVER!"
Leave us a review, like and share the podcast. We'd love to hear from you!
CONNECT WITH US:
Connect with Cel & Leah: @cpmethod @itscelsmart @leahelizabeth_v
WEBSITE: https://www.cpmethodfit.com/
Sponsors : @Sweatnet @Vasnutrition @beamazingweekend