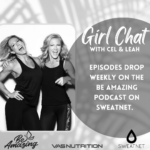 IN THIS EPISODE:
CHANGE CAN BE UNCOMFORTABLE
Are you spontaneous or a planner? Do you try new things or stay in your comfort zone? Your closest friendships/relationships make a huge impact on who you are and what you become.
*Some people are motivated and others aren't
*Understanding how to manage your discipline
*There are seasons in life – are you willing to do what it takes to meet your goal?
*Our myth buster this week: Spot Training, is it a real thing ?
Connect with Cel & Leah: @cpmethod @itscelsmart @leahelizabeth_v
Sponsors : @Sweatnet @Vasnutrition @beamazingweekend